Stunning Stairs Ideas for architects and interior designers 
Stairs Projects Custom Design Staircases.
Stairs Design is our specialty, Perfect Stairs Projects our achievement, Client Satisfaction our prize.
We guide all clients, first of all Architects and Interior Designers, House Owners, Builders, Contractors or others from the initial Staircase Idea to the completed and installed product. Our Services include Stairs Design, Stairs Project Management, Feasibility Studies with custom recommendations and suggested solutions, Structural Engineering Calculations, Site Surveys, Manufacturing Process, Delivery to site and Installation.
Our Team has premium expertise in developing special and exclusive stairs projects. All but ordinary designs. Here are only some of our featured completed projects.
Glass Spiral Staircase in Louisiana – New Office
Project ref.: GDS Stairs Lafayette – Louisiana USA.  High engineered Spiral Staircase with curved glass railing, no visible fixings.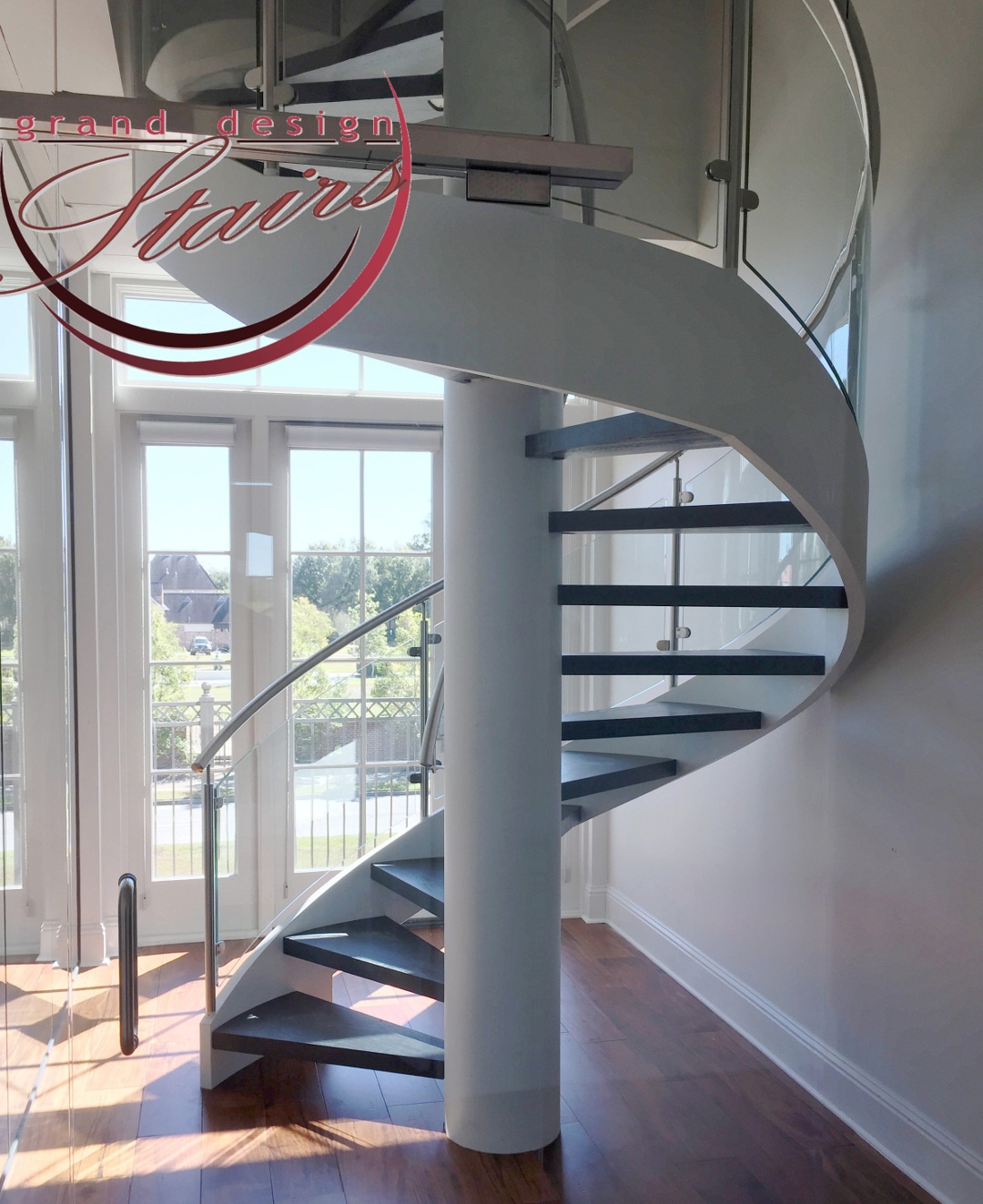 Project type: Glass Spiral Staircase for a building with new offices of one of the most famous Drive-In Company in USA.
Architectural Style: modern
Location: Lafayette – Usa
Status: completed
Stair features
Fully bespoke engineering for this stunning staircase. With an height of 4613 mm and a diameter of 2050 mm this huge staircase is structurally very sound and rigid. The staircase  has 21 steps and a square landing platform.
We realized the central coloumn with first grade powder coated steel. We designed the lateral stringer or fascia as a boxed engineered system that allows to hide any side fixings. The wooden steps are made of solid oak 60 mm thick, brushed and stained to dark grey. The stunning feature of this spiral staircase is enhanced by the stylish railing. Stainless steel handrail and posts and toughened curved  glass panels.
One more  unique luxury Staircase to add to our collection of Grand Design Stairways Projects around the world.
Stair Project Development
The owner of one of the largest Drive-In Co. in USA asked to his Interior Designer  to find a modern spiral staircase design which looked really impressive and was able to give light and elegance to the tiny lobby/entrance of the new offices they were building.
The Interior Designer found inspiration from a photo of our web site referred to one of our previous project included in our Spiral Staircases Collection for Commercial Places. The Client the approached ask asking to replicate the same design in his atrium.
Our Stairs designers went through all details required by Architects, Engineering and Interior Designers. Based on a careful feasibility study they came out with the best design ever.
The challenge was to design a huge staircase as the main stunning feature at the entrance atrium, without altering the existing space. A huge staircase needs strong fixings points which we always try to hide to have a clean and light staircase look. The final result is simply stunning.
Curved Steel Staircase for three stories in E-Teck University – Caribbean Islands
Project ref.: GDS Stairs E-Teck – Trinidad – Caribbean.  Three-story Suspended Curved Staircase with stainless steel railing and oak steps.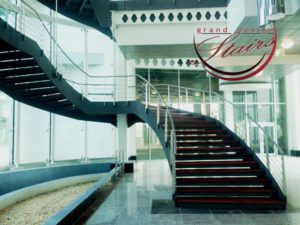 Project type: Commercial – Three-story Curved Staircase fitted in the  main atrium  of a new build University Campus.
Architectural Style: Modern
Location: Caribbean Islands
Status: completed
Stair features
Superlative masterpiece, unique combination of top engineering and excellent design.
Fully bespoke three-story curved staircase for a total height of 10,5 meters, from ground to third floor. Staircase width 1500 mm.
Powder coated curved lateral stringers, steel steps with walnut wood clad, modern design railing with stainless steel handrail, featured posts and rods.
The stainless steel railing on both sides of the stairs has been designed with a featured handrail. The handrail twists the staircase in a harmonious way giving an never-ending sense of comfort and easiness while going up to the top floor.
Besides the stunning design, these staircases stand out for their rigidity and structural soundness. They were the most important features required on this project by the structural engineers.
One more distinctive masterpiece to add to the collection of Grand Design Stairways projects around the world.
Stair Project Development

From the initial inquiry with basic drawings and site pictures, we went all through the design process with architects and structural engineers. Our ambition was to reach one of a kind solution and  realize an extremely sound staircase but with beautiful and distinctive design.
The main challenge was to design this three-story huge staircase to be floating in the air with no walls around it, no visible fixings but of course structurally very sound and rigid.
Another huge challenge was the fitting. Due to the height, each flight was fitted on the ground and then lifted with a crane to second and third floor.
The final look of the staircase is just impressive
Steel Marble Staircase in Russia
Project Ref.: GDS Stairs Omsk – Russia
Wonderful multi-story stair fitted in a luxury private villa in Omsk – Russia. Only one word to describe this unique staircase masterpiece: Magnificent.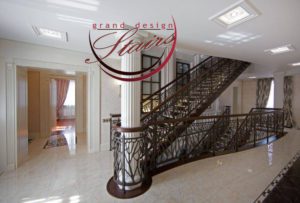 Project type: New build luxury private villa.
Architectural Style: neoclassical
Location: Omsk-Russia
Status: completed
Stair features
Fully bespoke three-story stair, each flight with an height of 3610 mm, 21 steps and a special shaped landing. Main support structure featured with engineered powder coated spines, oak steps with Botticino Marble inlay. The unique railing running on both sides of the stairs has been designed following architect's special request to imitate the endless twist of branches over trees. Especially relevant is the unique handicraft oak handrail perfectly fitting and following the railing and the curved landing balustrade on each floor. Another unique work of art to add to our collection of Grand Design Stairways projects around the world.
Stair Project Development
From the initial inquiry giving general information, drawings and basic measurements, we went all through the design process with project architects and interior designers. Our goal was to find the best solution to accomplish client's dream for a one of a kind architectural staircase which perfectly matches the neoclassical house style.