Modern Stairs: Inspiration from latest Architectural trends and new Interior Design Styles
Modern Stairs with High-Tech Materials, New Engineering, Smart Buildings…. great inspiration for Grand Design Stairs to create New Contemporary Stairs Designs.
Contemporary Stairways are much more than a simple element connecting two floors in a house or commercial building. The Modern Staircase in your home has to follow the directions given by your Interior Designer an match all your house style.
Glass, Glass, more Glass and Stainless Steel ….. Modern Stairs in offices, show rooms, atriums and shopping malls
Paris Stairs Rue De Barres
Stainless Steel stringers and railing, satin glass steps.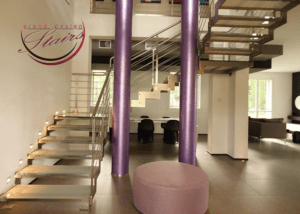 London Stairs Bond Street
Luxury Wide Glass Staircase with satin glass treads and clear glass railing. The light and elegant  white steel stringers give solidity and soundness to the entire design.
Los Angeles Stairs Brentwood
Modern design idea, curved cantilever wooden treads, contemporary stainless steel railing. Steps are fixing directly to the supporting wall with no need of additional support structures. Stainless steel wall handrail as option.