The Glass Stairs: Magic of Transparency. Outstanding look for any Interior design.

Glass Stairs by Grand Design Stairs are the right option for you if you are aiming to give an exclusive and terrific look to your project.
You can choose to have only some glass parts in the stairway rather than a full staircase made of glass. Depending on the space available you can decide for a straight flight, a L- or U-shape or even a Curved Staircase.
Our engineers and designers will help you to get the best result in terms of design and structural soundness.

Luxor Stairs Corniche El Nile
Modern helical staircases with curved glass railing and glass steps, stainless steel stringers. Exclusive elegance and engineering for Glass Grand Design Stairs.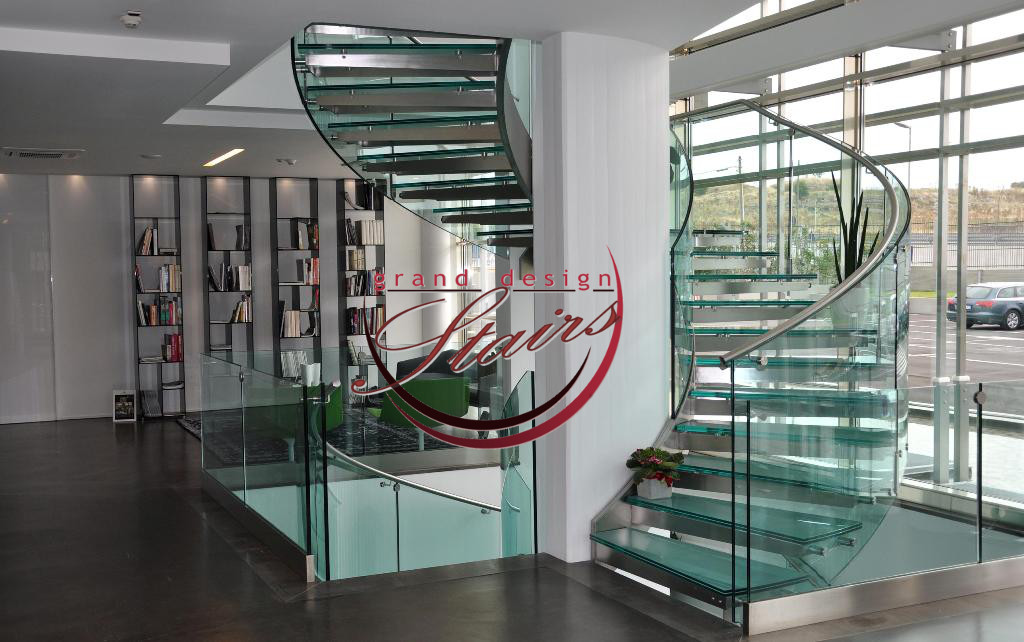 London Stairs Golden Lane
Marvellous Glass Staircase fitted in a premium meeting centre. Fully bespoke and entirely realized in stainless steel and toughened glass. Superb elegance and top engineering for our Glass Grand Design Stairs.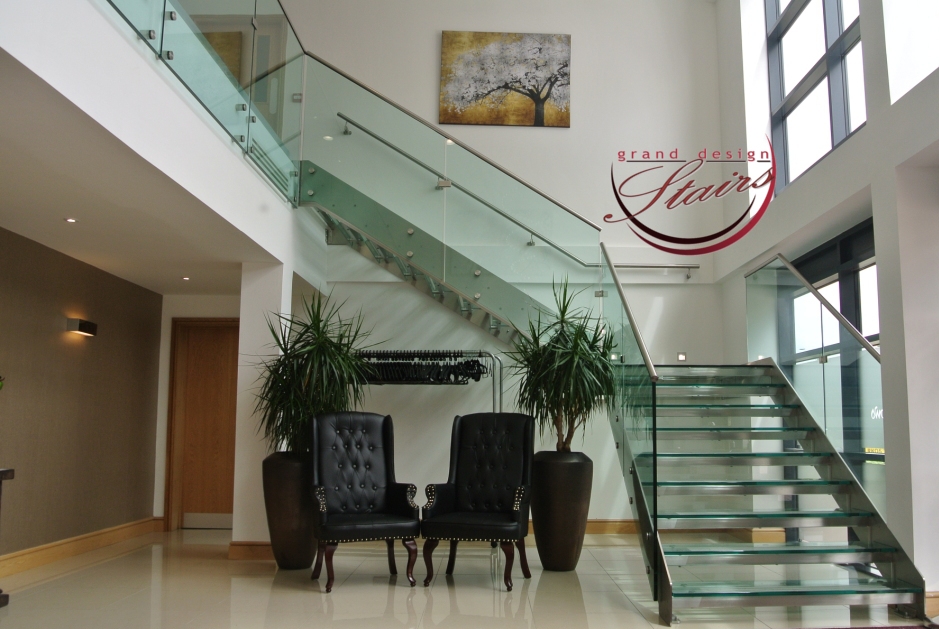 London Stairs Bond Street
Luxury Wide Glass Staircase with satin glass treads and clear glass railing. The light and elegant  white steel stringers give solidity and soundness to the entire design.
Glass Stairs Design Ideas and Manufacturing
Structural Glass Railings, Balustrades and Glass Walls are the best solution if you aim to give the highest sense of lightness to your interior design. With the magic of glass even a small space can become bigger and bigger.
Tempered laminated glass is always our choice to grant long lasting solid products. Many colours, shades and patterns are available. The addition of Led lights can give the final touch of class to the stair work of art. Different Led lights colours can be incorporated into steps, railing and handrail.
Stairs design styles
No limits for the glass stair layout: straight, quarter turn, half turn, helical, curved and even S-shape.
Colours Choices and Finishes
The glass choice is near infinite. Many colours and transparencies are available.
Our suggestion for steps and landing is a non-slip opaque safety glass. Ultra clear glass is however the most popular option for railings and balustrades.
Featured Details of Our Glass Staircases
The elegance of Glass Stairs is further improved by exclusive Stainless Steel Design fixings, which add a sense of luxury to the entire stair design.