Curved Stairs or Helical Stairs: an exclusive touch of drama to any space
Curved Stairs or Helical Stairs have been originally designed as the central feature in the atrium of luxury villas or commercial buildings. They are nowadays becoming more and more popular even in relatively small spaces.
Curved Stairs custom design
Our designers at Grand Design Stairs can develop for you a brand new custom staircase or work with your architects, engineers and interior designers to make your own Grand Staircase dream comes true.
Free standing or wall supported, any shape is achievable. We can suggest different designs as curved central spine, double spines below treads, lateral fascias or even cantilever. Railings and landing balustrades are furthermore custom made in various designs and materials to further enhance the beauty of all Grand Staircases.
Los Angeles Stairs Wilshire Boulevard
Curved sleek staircase with engineered powder coated steel stringers, railing with curved glass and curved wood handrail.  Oak steps with up-stands. A unique stair masterpiece to enhance the beauty of this exclusive apartment.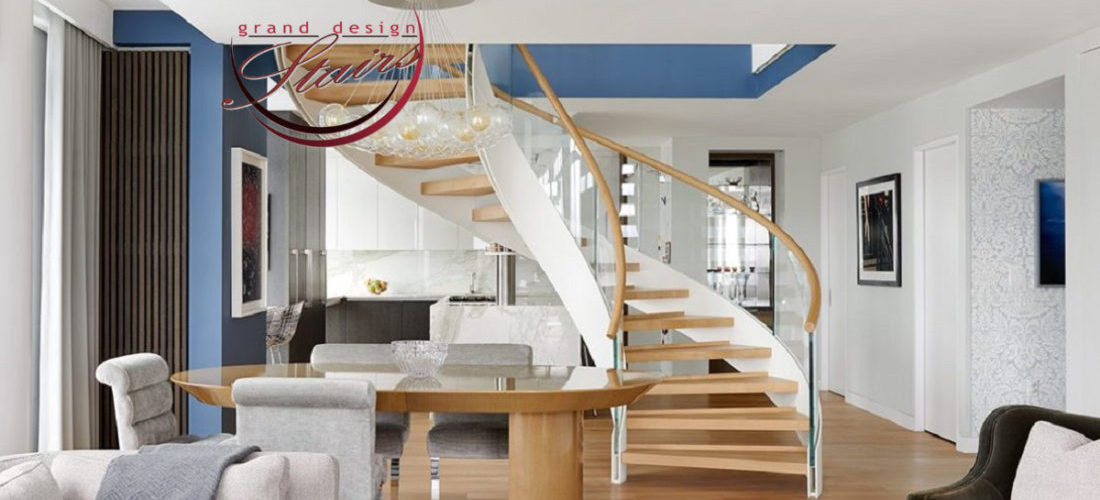 Luxor Stairs Corniche El Nile
Modern helical staircases with curved glass railing and glass steps, stainless steel stringers. Exclusive elegance and engineering for Glass Grand Design Stairs.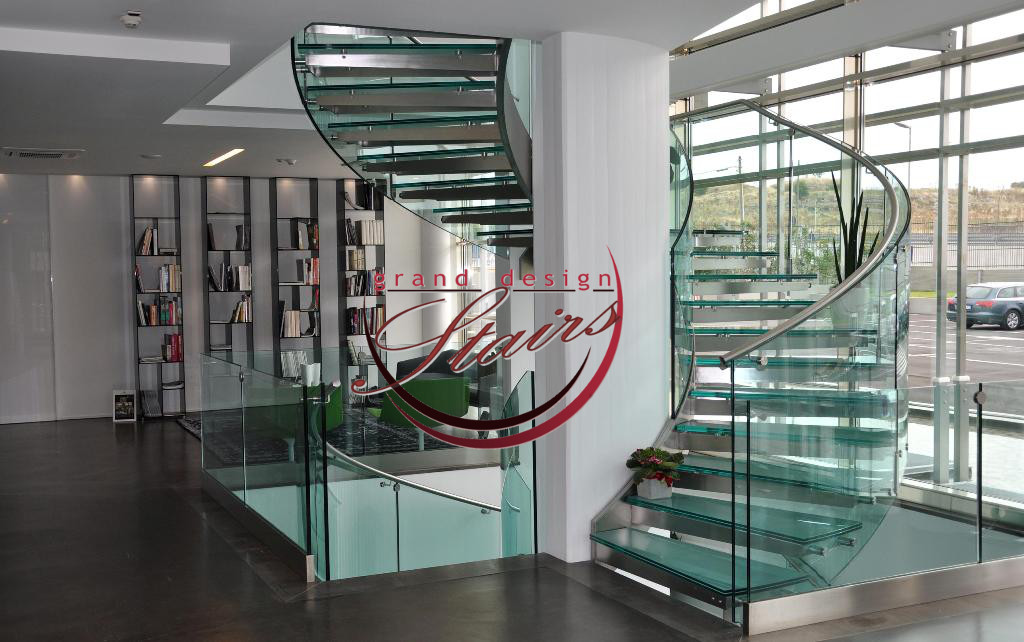 Miami Stairs Collins Avenue
Curved steel staircase with powder coated steel stringers, railing with helical stainless steel handrail. Solid Oak steps. Alternative options with glass steps.
Elegant Stair Solution to give an impressive look to the whole home design.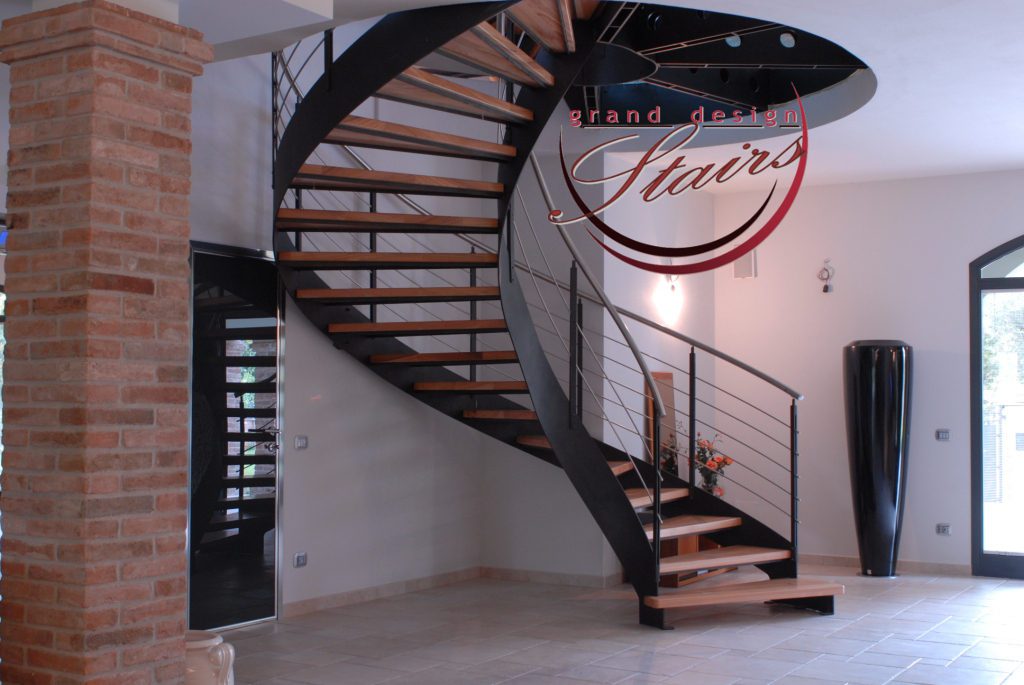 Moscow Stairs Arbat District.
Curved oak luxury stair with closed risers. The railing has curved handrail, turned spindles and handcrafted extraordinary newel posts at staircase entrance. A real masterpiece in the atrium of this luxury home. Beautiful curved landing balustrade at first floor to match stair railing design.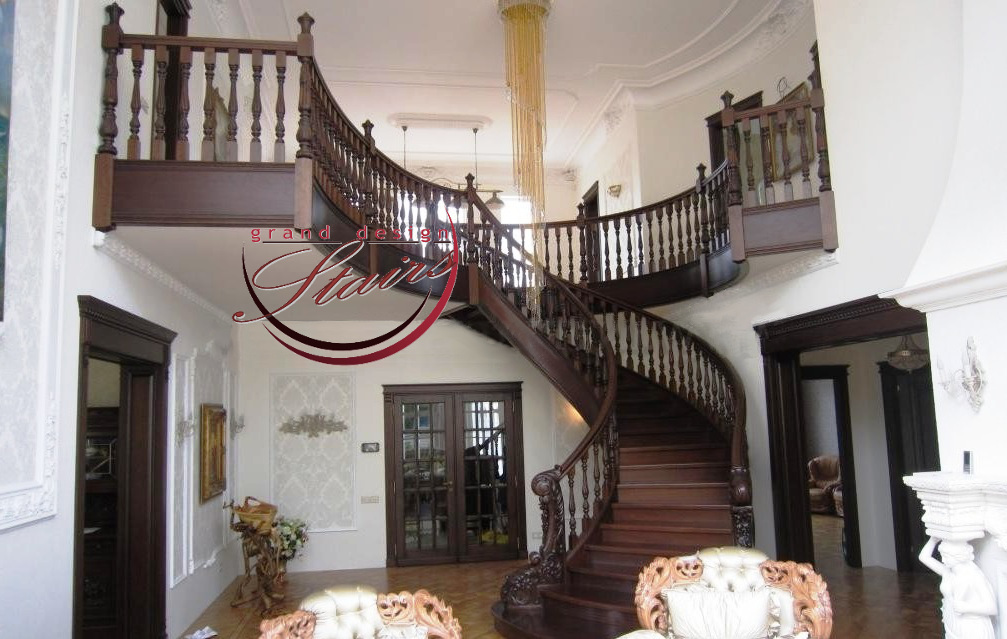 Abu Dhabi Stairs – Al Forsan Village
Design Stairs with marble treads and wrought iron railing railing. Impressive, outstanding style for this curved staircase design.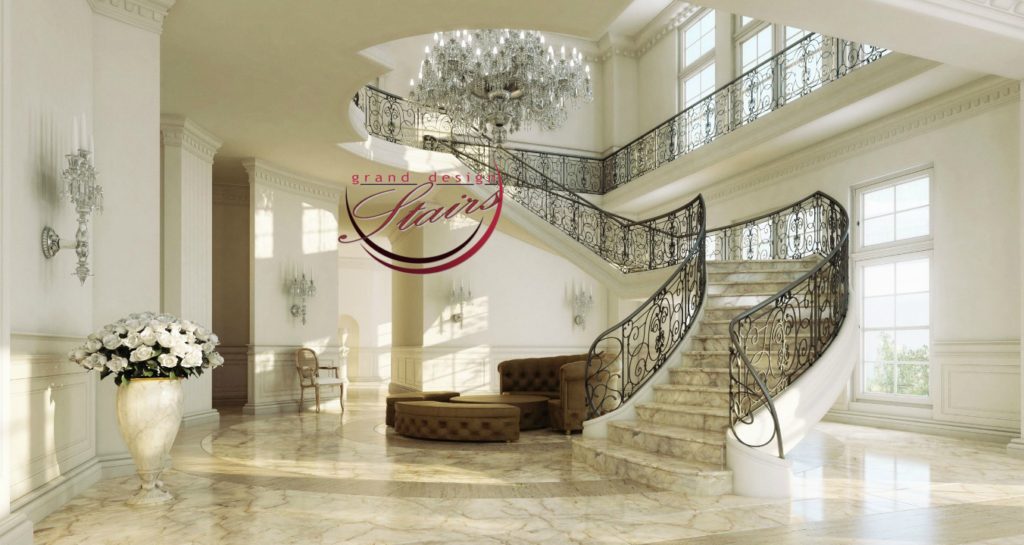 Buenos Aires Stairs Avenida Alvear
Helical Grand Design Staircase with stunning design, steel center spine possible with different designs and solutions, stainless steel railing with horizontal rods. Curved  glass railing design to upgrade to a top luxury staircase model. Wood is available in bleached or lacquered finish, natural clear lack or stained to different shades and colors. Steps in metal, stainless steel, marble and stones.