Cantilever Stairs: The Stair Statement – Stunning Floating Cantilever Stairs Design
Cantilever Stairs. Architectural and engineering expertise cleverly combined to give a dramatic and unique touch of elegance to any interior design. No visible supporting structure, very light and bright design.
An impressive combination of  an extremely structurally sound solution with an open and airy design.  As a result this makes the cantilever stairs exclusive statements in any room.
Design, Concept and Construction
There are many different systems to achieve a unique Cantilever Floating Stairs Design. First of all you can decide to have treads fixed directly to the wall. We can however also design invisible supports for steps.
In some cases the stringer is visible but leaves the floating sense of lightness to steps.
Our designers can plan the best  solution for any construction style and suggest the best option available for you.
Los Angeles Stairs – Wells Drive
Cantilever Stairs with oak treads and glass railing fixed directly to treads with stainless steel bolts.
Simple, elegant and breathtaking look for this floating staircase design.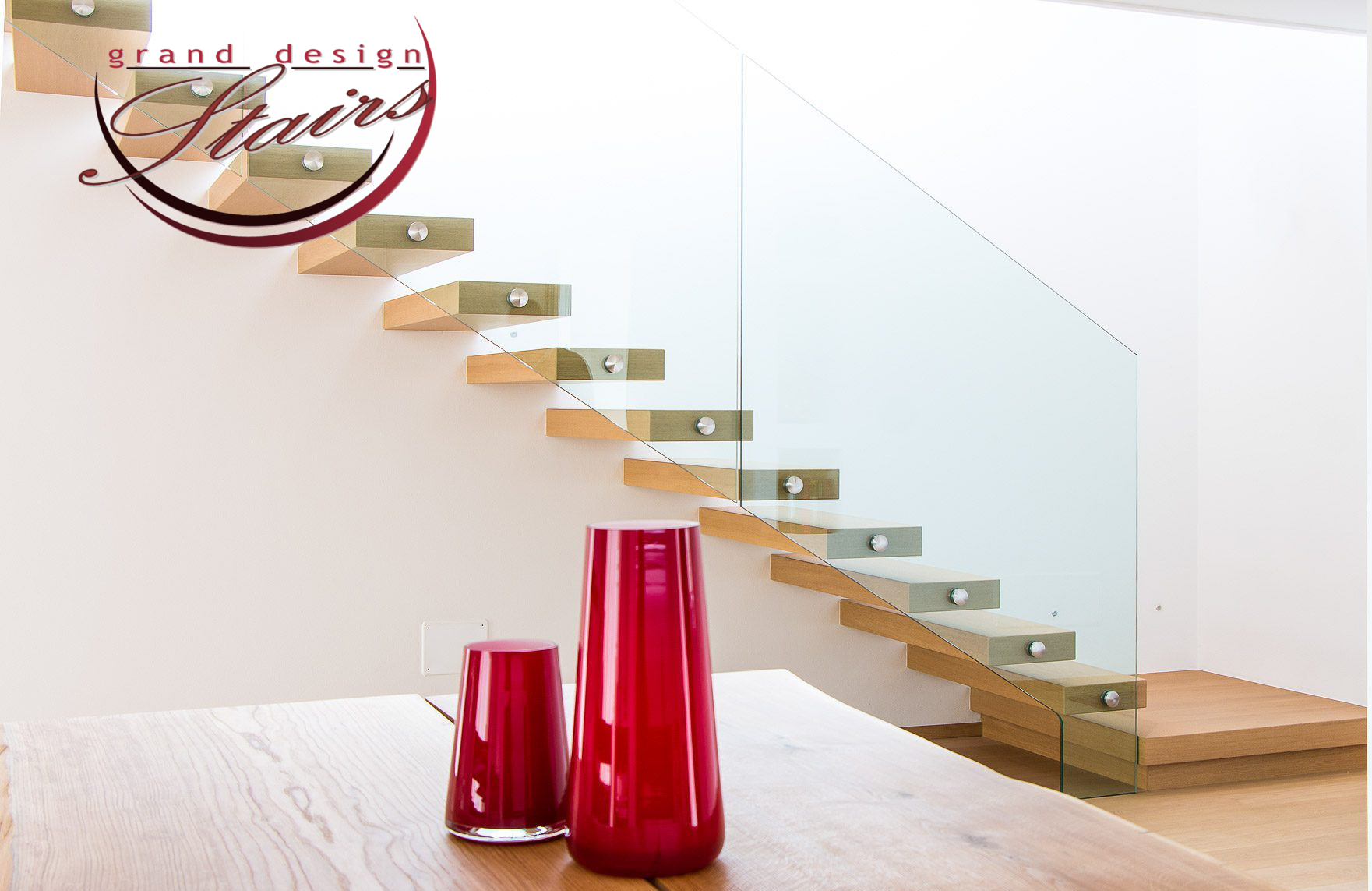 Stairs Design & Styles
No limits for the Cantilever Stairs and Suspended Stairways layout, hence the floating stair can be a straight flight, a quarter turn, a half turn, a helical, curved and even S-shaped.
Material Choices and Finishes
As for all our architectural stairs projects, the choice of materials is near infinite.
Steps can be therefore in different types of wood, assorted glass styles and designs, resins and even stones. Railing will be tailored to the interior design style, wrought iron or powder coated steel for a more traditional look, while toughened glass or stainless steel is more suitable on a Modern Interior Decor. 
Featured Details of Our Cantilever Glass Staircases
With no visible support, open rise steps, glass risers and 'Free Standing Glass' balustrade Cantilever Glass Staircases will make a wonderful impression in your home. The Cantilever Stairs are further enhanced by additional 'free standing glass' guard rail on first floor level which will maximize the use of natural light to the stairwell.
New York Stairs – Maiden Lane
Cantilever Stairs with solid oak treads fixed to glass with stainless steel bolts. Structural glass railing on both sides. Stylish and stunning look for this floating staircase design.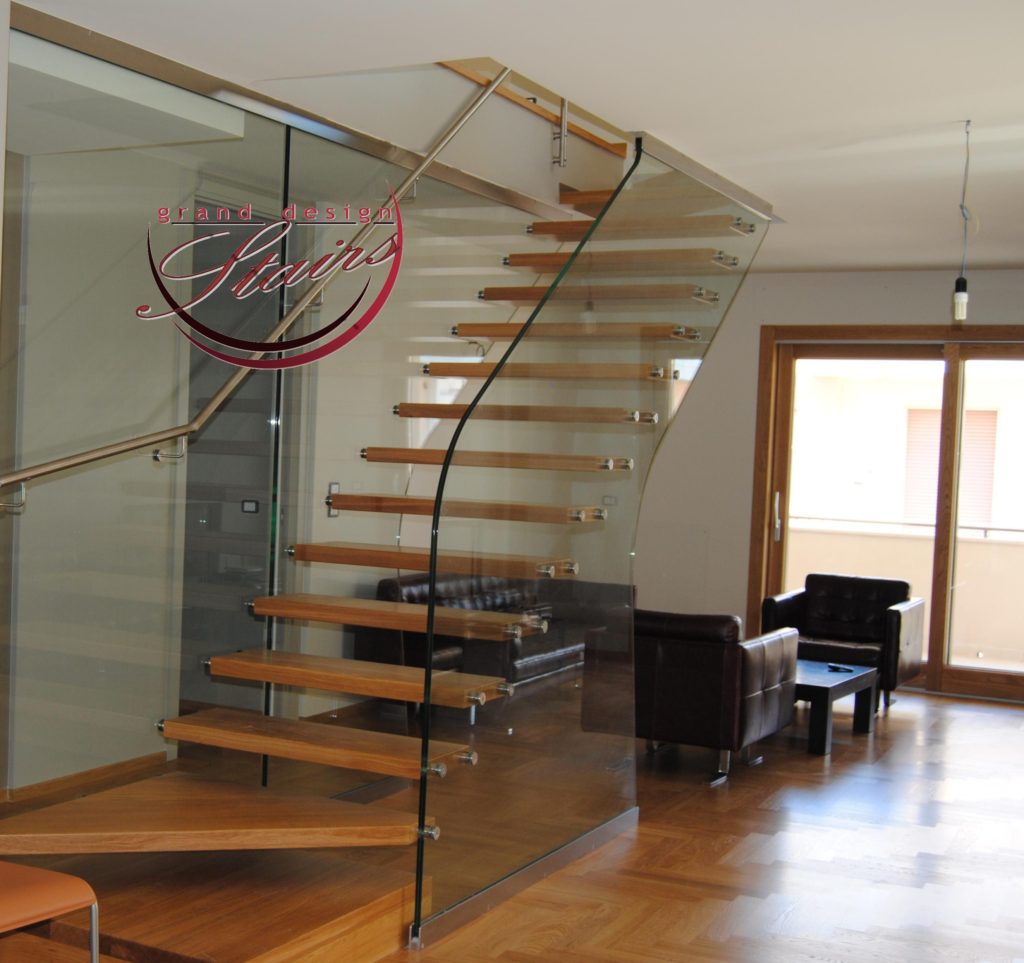 Los Angeles Stairs – Artesia Boulevard
Cantilever Stairs with walnut treads supported by a steel structure concealed into the wall, glass railing fixed directly to treads with stainless steel bolts. Structural glass wall to enhance any transparency. Led lights under treads add a distinctive touch of class to this Modern design Staircase.
Latest  Stairs Design and Materials
Our research for New Stairs Designs and Materials is unending. Our Stairs Designers always come up with new solutions that are all the times very welcome by Interior Designers and Architects.
Here our latest proposals.
Micro concrete Floating Stairs
Micro concrete is a versatile material often used on floors, kitchens and bathrooms. It is a fantastic choice for Floating Stairs as it provides a perfect anti-slip surface. Very easy to clean with a spectacular contemporary look.
Any Interior Design Project completed with micro concrete will be stunning. This material can in fact be applied not only on cantilever treads but also be used to cover a range of items in the home including dining room tables, floors and walls. Huge choice of different texture finishes and colours.
Corian or similar materials for luxury Cantilever Staircases
Originally designed for kitchen countertops Corian by Dupont has become a very valuable material that Architects and Designers all over the worlds uses to complete their best projects.
If offers a very hard and resistant surface therefore it is perfect for Cantilever Staircases.
If you are looking for a very elegant and luxury Staircase Design the Corian or a similar material is the right choice. Contact your designers today, they will be happy to guide you step by step and help in your Exclusive Staircase Selection.